How to End Failing Grades in Paper Writing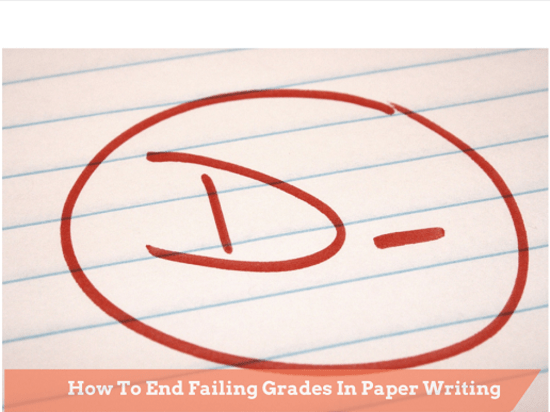 Failing grades on papers in college is a GPA "killer." When a major research paper can be fully one-third of a course grade, it is easy to understand that no one ever wants a "D" or "F" on one of them. And yet those grades are quite common, when students submit writing paper assignments that are just not up to the standards that college-level work demands. If you are the recipient of some of these kinds of grades, you know you have something to fix the issues you have. But you can't fix those issues unless you first identify them. So, here are common causes of poor writing grades, and if you can identify yours, you've made the first step toward grade recovery.
Course overload: Some students are just too ambitious and enroll in either too many courses or in too many really challenging courses. And many students have part-time jobs that they must keep due to their financial situations. Take a long hard look at the courses you are currently in. If it is early in the semester, you might want to consider dropping ones in which you are struggling and picking up a "fluff" course to keep your credit load the same. This will naturally give you more time to spend on the essay and paper writing for the remaining courses.
Time Management/Procrastination: If you are not organizing your time efficiently, you will always end up trying to get those essays and papers completed at the last minute. This is a "death knell," because you will never do a good job when rushed. And if you are the type of person who is continually putting things off and choosing social time instead, you will always have your "back up against the wall" when you finally do have to get a paper in. Students who get consistently good grades on writing assignments schedule time for them in advance and stick to a schedule of daily assignments, time for work on longer-term essays and papers, down-time to just chill, job, and other co-curricular and social activities. If you manage yourself well, you will have time for all of these things.
Lack of Motivation: If you are forced to take a course in which you have no interest, do not feel alone. Every college student faces this issue, and it is really hard to get motivated to write an essay or a paper on a topic you really dis-like. There is no cure for this, but you will have to force yourself to put together a credible piece of writing anyway. One thing you can do is get online and read sample essays and/or papers on the topic, and these will give you some good ideas for development and perhaps some current resource materials that you can use. A word of caution: all of your professors have plagairism-detection software at their disposal, and, in fact, a number of colleges now require that a student submit a TurnItIn report with their essays and papers. Don't try to "game the system!"
Organizing Information/Data from Several Sources: Writing a paper that will earn a good grade means that information and data is presented in an organized fashion. When several sources are used, synthesizing that content can be a challenge, especially when you have to be very careful about the specific source of each piece. If you struggle with combining the results of research into logical sub-topics, you need an organizing system. In high school, you probably used note cards, and that works for many students. If it doesn't work for you, try listing each sub-topic at the top of a page and then enter information that pertains to that sub-topic (with the source and page number of course) all on two or three pages. You can then print those page out, lay them before you, and have a complete picture of the information you have on a sub-topic. Combining similar pieces of data from different sources is then an easy task.
English writing skills: If you do not have proficient composition skills, you probably already know it. Even though a paper may be for a history class, lack of good writing automatically lowers a grade. Professors are, after all, human, and they get frustrated when they have to read anything that is poorly written – they cannot focus on your content, no matter how good it is. You must get help if this is your issue, and here are your options:

First, commit to remediating your skills through an online course or a tutor. This will take time but eventually pays off.
Make use of the writing lab on your campus – it's free, and there are good writers there to help you.
Write your rough draft and have a friend who is a good writer review and edit it for you.
Get a writing style app that will find your major errors and give you solution suggestions.
Contact a custom paper writing company and get original custom writing of your essays and papers. The additional "plus" of this option is that you can study the pieces as you work to improve your own skills.