Top 10 Excuses You use to Put Off Writing That Paper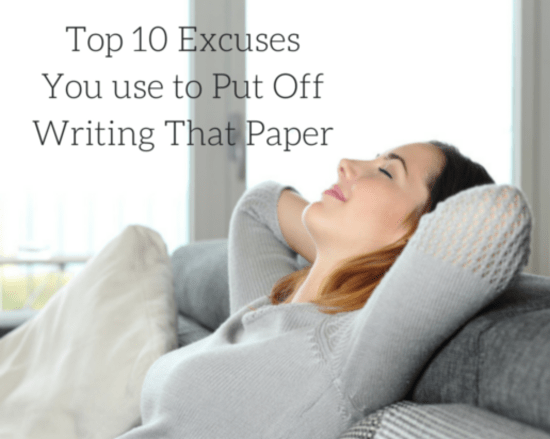 Top 10 Excuses You use to Put Off Writing That Paper
One of the most difficult parts of writing a paper is getting started. There's something about taking that first step and sitting down to research and right that is so challenging to students. It is for this reason that you and other students often come up with excuses to put off the writing you should be doing right now. In fact, we've discovered that some excuses are really popular among students. Check out our top ten list of excuses that students like you use to put off writing that paper. Then, read our suggestions for getting past each excuse so that you can begin writing.
1. The Dorm Room is too Hectic Right Now
First, take a minute to consider what you can do to make your place less hectic. Can you ask visitors to come back later? Can you turn down the volume on the tv? Can you close your bedroom door? If these steps don't solve your problem, there are plenty of quiet places to write on campus.
2. I am too Stressed Out From my Busy Day to Think Straight
This is a valid reason to give yourself a thirty-minute break. Take that time to watch an episode of a television show, to check your Facebook, or to take a nice hot shower. Then, start writing.There's no need to waste an entire evening without being at least a little productive.
Get your paper written by a professional
3. I May not be Writing But I am Thinking About the Assignment
If you do this, you are probably coming up with some very good ideas. Unfortunately, if you aren't writing them down, you won't recall most of these ideas later on. At the very least, you should be typing your thoughts into Evernote.
4. I Do My Best Work During the Day/Night
Everybody has times when they are more productive than others. If you are truly better off with research paper writing during another time of day, that is fine. This is when you should be working on the more intense portions of your paper. However, you can still do a bit of note taking or light editing right now.
5. There are New Episodes of Orange is the New Black on Netflix
This is totally understandable. Go ahead and watch one episode, but then write for at least thirty minutes before watching another.
6. I Haven't Gone Out With Friends in Over a Week
Unfortunately, you may have to make it another day without your friends. If you really want to see your friends, invite them over for a homework session.
7. I'll Do it Right After I Clean my Room
This is fine if your room is truly so messy that it is distracting. Just make sure that you aren't rearranging your CD collection two hours later instead of writing your paper.
8. I Need to Get Some Sleep. I Will Start in the Morning
If you are truly sleep-deprived, you are making a good decision. If your version of sleep is scrolling through Tumblr while laying in bed, you can probably at least get out a paragraph or two.
9. I Cannot Think of a Topic
Good news! There is a solution to this. It involves sitting down and brainstorming topic ideas. If you are truly stuck, try hitting the internet for some inspiration.
10. I Just Don't Understand the Subject
Focus on what you do know. If you aren't able to get any writing done, you can try spending some time writing out some questions for your instructor. This way you can get a bit of clarification.