Love is in the Air – How the World Gets Ready for Romance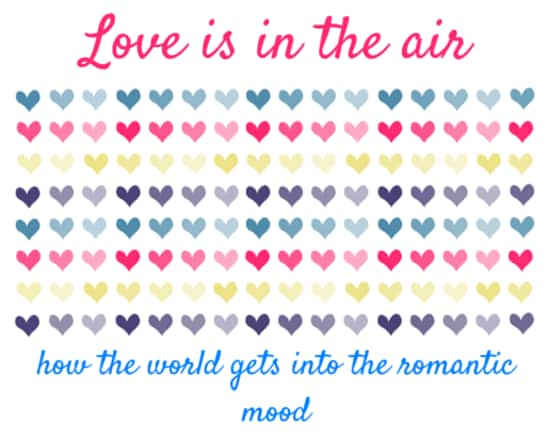 Love is In the Air: How the World Gets Into the Romantic Mood
Valentine's Day is almost here. Florists tell us that this is the biggest sales day they have all year. Candy stores stock up for their big sale day too. And jewelry stores start advertising on TV, social media, and anywhere else they can find a spot. More couples get engaged on Valentine's Day than any other day of the year. Even though Valentine's Day has some dark history in its beginning, no one cares. It's the day that love is celebrated. Go, how do we get ready for romance? Here are a few ways. If you haven't tried them, now is the time to experiment.
Rent Some Movies
A few days before the big day, begin to watch some romantic movies with your significant other. Some great options are:
"Sleepless in Seattle" – two strangers, one little boy – it's a match
"Titanic" – tragic, but oh the love
"Pretty Woman" – people from very different backgrounds can still fall in love
"Ghost" – another tragic love story, but love is still eternal
"The Notebook" – forbidden love can triumph
One a night for 5 nights before Valentine's Day should do the trick.
Download Your Favorite Romantic Songs
Play these often in the days leading up to Valentine's Day. The mood just gets more and more romantic. Here are a few suggestions:
"Let's Get it On" – Marvin Gaye
"50 Candles" – Boyz II Men
"Crash Into Me" – Dave Matthews Band
"Just Because" – Johnny Mathis
"Fly Me to the Moon" – Julie London
"The Longer We Make Love" – Barry White
You probably have others that are your favorites. The criteria is that they make you feel romantic and ready for love.
A Romantic Dinner
It doesn't have to be at a restaurant. Candles, low lighting, a favorite meal, and lots of wine – a definite recipe for romance
Get your paper written by a professional
Dress
Nothing gets romance going better than some totally sexy outfits – buy a few and sport them just before the big day. Save the best for that romantic dinner.
Poetry
Think ahead on this one. If you don't feel creative but want to show thought and effort, contact a custom writing service and have one of their creatives craft the perfect poem. You can personalize it by giving your writer details about your love.
Flowers
Of course, red roses are the flower of choice on Valentine's Day. Sending them to a woman at her place of work is particularly smart, because then she can show to everyone else how much she is loved by her man and how thoughtful he is.
Valentine's Day Around the World
Japan: Role reversal is the "rule." This is the day that women shower their men with gifts – usually chocolate. This tradition also exists in S. Korea and Taiwan. But there is also a "White Day later on when the roles are reversed.
Denmark and Norway: Valentine's Day has only recently begun to be celebrated in these two countries, but it is celebrated by men writing short little poems to women anonymously. If the woman guesses the name of the send, he must then give her an Easter egg on Easter. If she fails, she has to give him an egg on Easter.
Wales: In Wales, a man shows his love for a woman by presenting her with a spoon. This goes way back to when men were gone to sea for long periods of time and spent their free time carving intricate spoons from wood and presenting them to their love upon their return. In America we have roses; in Wales are the spoons!
A national day of love is a good thing. And it doesn't have to just be between man and woman. It is a great day for parents and children to show their love for one another too.