Books Every Student Should Read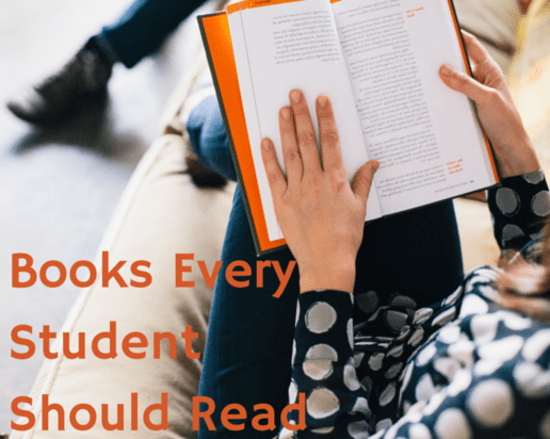 When college students become intently focused on their classes and working towards their degrees, many wonderful things happen. For one thing, students begin developing their critical thinking skills at a rapid pace. They learn to form ideas and opinions, interact with others in discussions about those ideas and opinions, and ultimately improve and modify their opinions and ideas based on these interactions. College students also spend a lot of time reading and absorbing information that is directly related to their studies. On one hand, this is a good thing. They are learning and absorbing the information that they need to learn. On the other hand, this doesn't leave much time for other reading. This is a shame, because there are so many books that college students should be reading that can teach them life lessons, inspire them, or simply provide a bit of reprieve. So, we have decided to step away from our 'day job' of providing research paper, essay, thesis, and dissertation writing help to go over a few books that we believe every college student should read.
Fish
Author: Steven Lundin
When we began discussing this book, one of our staff members recalled her first flight on Southwest Airlines. The flight attendant was giving the standard instructions about emergency exits, oxygen masks, and flotation devices. Then, at the end of the presentation, the flight attendant began to offer some additional advice. She began, ' for those of you who are traveling with children...'
'...bummer.' Her perfectly timed, dead-pan delivery earned her laughs from both the passengers and the crew. The loudest laughs actually came from the parents she had targeted.
If you have ever wondered where the famously irreverent culture of the Southwest originates, the answer is this book. It is based on a woman who comes to the realization that among other things, people must find a way to have fun at work.
7 Habits of Highly Effective People
Author: Stephen Covey
This is a classic, but still amazingly relevant book that provides its readers with action steps that one can take at any age to achieve their goals. Students who are looking for very specific information on improving their lives can definitely learn from this book.
The Automatic Millionaire
Author: David Bach
Many students don't realize that they can begin building wealth right now. David Bach provides many tips in his book that go well beyond the typical advice that students receive about financial issues. Some of his advice includes living below your means and directing money towards valuable purchases that benefit the entire family.
The Tao of Pooh
Author: Benjamin Hoff
It is easy to envision Winnie the Pooh as an adorable literary character who has delighted children for decades, but are you ready to view the adorable bear as an Eastern philosopher? The Tao of Pooh asks you to do just that, and in turn provides amazing perspective. If it sounds unrealistic, take a moment to consider the characters. Piglet worries, Rabbit micromanages, Owl detaches, and Tigger acts out. Pooh simply is.