A Student's Guide on How to Write a Synthesis Essay With Ease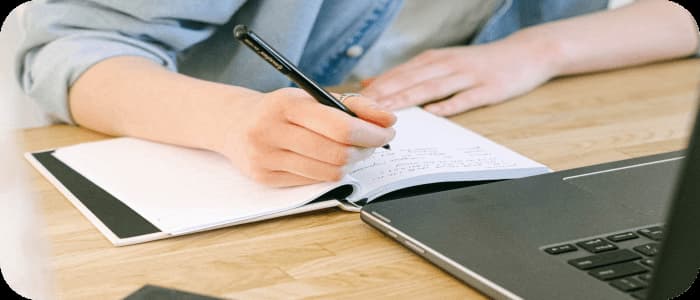 A synthesis essay is one of many essay types students are facing while studying in school and college. However, unlike other types of essays, a synthesis essay is less common. Due to this reason, many students are feeling overwhelmed when they are assigned to complete this task.
Were you assigned to write a synthesis essay but have no idea where to start? You've come to the right place! In this article, you will find a comprehensive guide on how to write a synthesis essay and get a high grade.
What Is a Synthesis Essay?
"To synthesize" means to put several pieces of something together, so that they form a single whole. Respectively, a synthesis essay is a piece of writing that presents the information collected from multiple sources that form a whole piece of content.
The purpose of a synthesis essay is rather complex. A student is required not only to summarize the key points from the used resource but also to ensure that presented pieces together build a single argument that goes in line with their stance on the topic. Also, such a paper requires you to clearly define the relationships between the information from different sources.
The key tasks a student needs to complete when writing a synthesis essay are:
Collect facts and information from multiple sources and organize them in a single whole.

Highlight the relationships between information from different sources.

Organize a paper in such a way so it is clear where information from different sources overlaps.

Provide a unified argument (idea) based on the information from different sources.
Synthesis Essay Format
Synthesis essays are usually 600-800 words long. There are no strict rules in terms of formatting. But, there are some recommendations that apply to most academic papers including a synthesis essay:
Pick a standard, easy-to-read font (for example, Times New Roman, Arial, Calibri, etc.)

Set the font size to 12 points.

Leave 1-inch margins on all sides.

Use double spacing throughout the entire text.
These are the general recommendations. Apart from them, you should pay attention to the citation format you are expected to use. A professor should provide you with clear writing guidelines that specify what style you need to use to cite your sources. Be sure to clarify this before you get to writing.
Synthesis Essay Outline
Creating a synthesis essay outline is a vital step in the pre-writing process. Many students choose to skip this step, but it's in vain. An outline can save you plenty of time and make the writing process simpler. Also, it is the best way to organize your thoughts and the information collected during the research.
Like any other essay, a synthesis essay consists of 3 basic elements - an introduction, main body, and conclusion. One of the best ways to approach this piece of writing is by following a standard 5-paragraph essay structure.
Now, let's look at each element of a synthesis essay in detail:
Paragraph 1: Introduction. In the introduction, you need to highlight the purpose of writing, introduce what is going to be synthesized, and make a thesis statement.
Paragraphs 2-4: Main body. Every paragraph of the main body should introduce one core idea, explain it, and provide valid arguments that support it.
Paragraph 5: Conclusion. The final paragraph of a synthesis essay needs to sum up the key points and bring readers to a logical conclusion. It is vital that you don't provide any new information or ideas in the conclusion.
Here is a sample template you can use for your synthesis essay:
Introduction
A short sentence that explains the focus of your synthesis essay.

Brief introduction of the sources that will be synthesized (including the title of each source and authors' names).

Background information about the sources and their authors that will help readers understand the main ideas better.

Thesis statement.
Main Body (the points below represent a template that should be used for each body paragraph)
Topic sentence that introduces the main idea of the paragraph.

Information related to the main idea from different sources (be sure to indicate where pieces of information overlap, you can do it with the help of transitions, topic sentences, citations, etc.).

Explanation of the connections between the used sources (e.g. differences and similarities).

Supporting arguments.

Smooth transition to the next paragraph.
Conclusion
Wrap up the main points discussed in the essay.

Restate the thesis.

Draw a logical conclusion.
How to Write a Synthesis Essay Step by Step
Here is your step-by-step guide on how to write a synthesis essay:
Pick a Good Topic
The first step is to choose your synthesis essay topic, unless, of course, you were given one already.
The key to choosing a good topic for a synthesis essay is to ensure it is broad enough to give you scope for research but narrow enough to let you clearly indicate the connections between your sources and disclose the main topic without exceeding the word limit.
Choose a relevant topic that will be engaging for your audience. But, also, choose something you are personally interested in. This will make the writing process more pleasant.
Research the Topic
The key to success in writing a synthesis essay is extensive research. Use different research approaches to find as many sources as possible on your topic.
During this stage, list down your options in terms of resources. During the next step, you will have to choose a few best ones from this list.
Choose Your Sources
After researching the topic and making a list of available sources, you need to pick a few that will serve as the basis for your essay. Be sure to use only valid sources. To write a good synthesis essay, you have to operate with real and accurate facts. Thus, always pay close attention to the sources you choose.
Make an Outline
When you have your main sources, you can make an outline based on the information from them. Earlier in this guide, we already discussed how to write an outline for a synthesis essay. Follow the tips and template we shared with you to ensure that your outline is good.
Write Your Synthesis Essay
Mix the information from your sources to create a single argumentative piece that is engaging and easy to understand. Stick to your outline when writing. It should help you stick to the proper organization of the paper and ensure a logical flow of information in your essay.
Cite Your Synthesis Essay Sources
Since this type of essay is a blend of several sources, students need to pay special attention to their citations. To get a high grade, you need to cite each source material correctly, in accordance with the citation format specified by your professor.
Proofreading a Synthesis Essay
When you finish writing your synthesis essay, we recommend setting it aside for a few days. Getting some rest will help you get back to proofread your work with a fresh mind, which is vital for identifying all mistakes.
We strongly encourage students not to skip the proofreading and editing stage. This step is crucial if you expect to get a high mark.
Here are some key tips to help you proofread and edit a synthesis essay properly:
Read the text multiple times.

Focus on one type of mistake at once to ensure that you don't miss something important.

Use grammar checking tools to automate the process and save some time. But, always proofread your text manually after the grammar checker. These checkers may not identify all mistakes correctly.

Prepare a checklist of everything you need to check. Be sure to include the following things in your checklist - structure, format, clarity, grammar, punctuation, spelling, logic, etc.

If possible, ask someone else to review your synthesis essay and make suggestions. This will help you identify additional errors that you haven't noticed yourself.
The Bottom Line
Hopefully, after reading this guide, you know how to write a synthesis essay of high quality.
To sum up, let's recap the main tips that will help you write a flawless synthesis essay:
To make your synthesis essay compelling, you need to have a clearly defined opinion on the topic. To develop it, you have to study the chosen (or given) topic thoroughly.

Your synthesis essay should have a good structure that consists of an introduction, several body paragraphs, and a conclusion.

You should always check with your professor to clarify formatting and other guidelines.

Choose only valid sources.

Make sure you indicate the relationships of your sources and highlight the places in the text where information overlaps.

Do never neglect the importance of making an outline.

Always proofread and edit the essay before submission.
These tips should help you handle this task with ease.