5 Magic Marketing Words to Keep Customers Engaged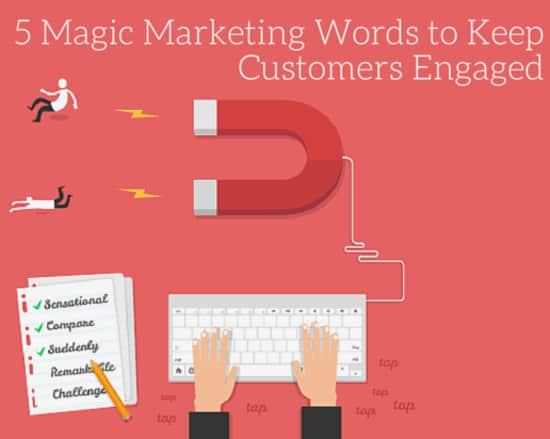 5 Magic Marketing Words to Keep Customers Engaged
Magic marketing words are powerful words and phrases that you can use in your advertisements and content to catch customer's attention, evoke emotional responses, and get customers primed to answer your call to action. When you add these magical words and phrases to your content, you can significantly increase the likelihood that your audience will convert, and the likelihood that they will share your content with others. There are hundreds of power words and phrases that you can use to make your content more engaging, however we have decided to focus on just a few that we feel are particularly powerful for content marketing efforts. Check out our 5 magic marketing words and phrases, then let us know what you think.
People love secrets, and they love to feel like they are part of an exclusive group. The promise of insider information appeals to both of these desires. If you are looking to collect email addresses, this is a great phrase to employ in a blog post. For example, you can invite readers to provide their email addresses in order to sign up to access 'insider information'. In return for their email address, you provide them with access to an email subscription list where they will receive content that other users do not.
This is a phrase that creates a sense of urgency. The reader knows that they will miss out if they don't act quickly. Adding an expiration date to an offer often results in an increased number of people answering the call to action.
Nobody wants to get ripped off. The very idea of it makes them angry. When you evoke that feeling, you get the reader's attention. They are ready to learn how your pricing, products, and services are a better deal than the other guy's. If your argument is convincing enough, they will want to learn more about what you have to offer. Just be sure that your delivery remains powerful throughout the rest of your post.
Get your paper written by a professional
This is another great phrase to put into use if you want to get customers to convert. The idea of saving money is a perfect motivator for getting people to take a certain action. If you've already used a coupon or other discount to drive a customer to your landing page, why not sweeten the deal with an additional savings offer in return for them performing a simple task. This could be providing a referral email address, or agreeing to complete a short survey.
It's true. Sex sells. Anything that evokes thoughts or feelings of lust, sensuality, and physical attraction is a useful marketing tool. Believe it or not, words like this boost customer engagement even if you are offering products or services that have little or no direct connection to sensuality. Marketers have used sex appeal to promote everything from cosmetics, to website hosting, to food.