12 Best Gift Ideas for College Students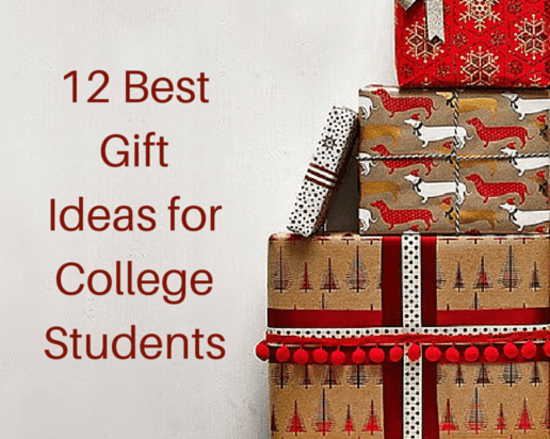 12 Best Gift Ideas for College Students
We all want to make sure that everyone has a great Christmas. However, it's hard to choose what to get them. Some people we want to get them presents that we know that they'll use or have a practical purpose. Others, we think that they could use or want something on the fun side. Either way finding a present for everyone can be difficult, especially for a college student. They're young, so they'll want the same things they've always wanted, toys, video games, or whatever else they like. However this is their first time living on their own, so you may be tempted to buy them things such as glass and cookware sets. Well here are the 12 best gifts for college students.
1. Kindle
Nothing will ever replace fresh ink on paper. However, the Kindle is great for travel. They can carry virtually every single book in the world right in the palm of their hands! After all, who has the energy to carry around every single book they have just for a week long trip?
2. Chrome cast
Your child probably has a television, Netflix, and the internet. But they might not have cable or a way to really enjoy that flat screen. Well with the Chrome cast they can simply plug the device in, enter in their connection info and voila! Now they can host their next movie night.
3. Coffee maker with auto start
College is hard and tiring; coffee is a must for students as it helps them get through the day. However, sometimes your students won't have time to brew a full pot in the morning. Getting them a programmable coffee maker will help them through their morning routine.
4. Breakfast Sandwich Maker
Another way to make your child's mornings easier. After all the foundation of a good day starts with a healthy breakfast.
5. Soda Stream
Soda can get expensive, and sometimes the syrup to carbonation can be too low or too high, depending on their taste preference. With a soda stream, they can simply make their soda however they like, and for the fraction of the cost.
Get your paper written by a professional
6. Gift Cards
About as practical as real money, you can use gift cards for virtually anything. Pay for a night out with their friends, or their next grocery tab. Whatever kind of gift cards you buy they will be appreciative.
7. Roadside emergency kit
It all happens to us, don't lie. We have all gone through the horrible state of having a flat or breakdown at the edge of the road. Sometimes we have no phone, or no knowledge on what to do. Help your kids through that predicament before it happens with a roadside emergency kit
8. High Speed Blender
Another great practical gifts, smoothies are a craze as they help people receive fiber and nutrient all in a glass. A high-speed blender is perfect for pureeing harder fruits such as apples and pears
9. Cards against humanity
This popular party game is great for college students due to its crude humor. Your child will have lots of fun making friends through this card game.
10. Plane Tickets
They will get homesick and that's just something that can't be avoided. Try buying them a trip home for a week and let them just be thankful for the opportunity to return.
11. Noise Canceling Headphones
Dorm rooms are distracting, television is distracting, everything that makes noise is distracting. Keep your kid focused and on task with a pair of noise canceling headphones
12. Go Pro Camera
Is the college student in your life athletic, or film savvy? Do they like the idea of filming everywhere they go? Get them a GoPro!
Hopefully this helps. Or at least you will be able to get some ideas for better options.